What are Fillers?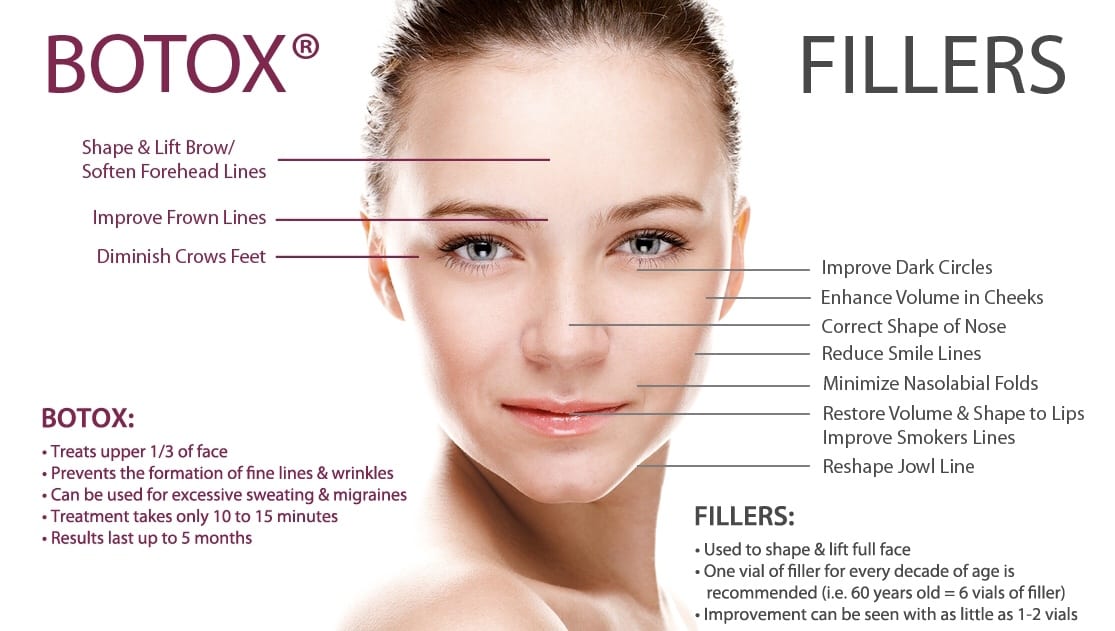 What are fillers?
Also called soft-tissue fillers, dermal fillers, soft-tissue augmentation
As we age, our skin loses its youthful fullness. Fillers help to restore lost fullness to the face, lips, and hands. 
Fillers are popular for several reasons. Patients like that they can return to everyday activities immediately after getting most fillers. They like the immediate results that many types of fillers deliver. Patients also like that they can get this treatment during an office visit. Some fillers require a few office visits.
Uses: With a number of fillers now available, our Nurse Practitioner Christina Finnerty FNP can diminish signs of aging that appear on the face, lips, and hands. Fillers can effectively: 
Restore fullness to cheeks, hollow areas under the eyes, and deep creases.

Diminish scars.

Erase fine lines.

Plump lips. 

Lift the brow or a down-turned mouth.

Rejuvenate hands.
What happens when I get a filler? 
The procedure varies with the filler your provider will use, the part of the body to be treated, and your medical history. Here are some general guidelines about what you can expect:
Most filler treatments take between 30 and 45 minutes and require one office visit.

Before getting the injections, you may need ice, an anesthetic applied to the skin, or a nerve block (an injection). This varies with the filler and area to be treated. Hands generally do not need anesthesia; lips often require a nerve block. 

Your provider will inject the filler into the area, often giving you several injections to produce the best results. 

You may feel a stinging or burning sensation as the filler is injected. 
What must I do after getting a filler?
Most patients can return to their everyday activities after leaving the office. 
To reduce any redness and swelling from the injections, your provider may recommend icing the area for 15 to 20 minutes before you leave.
After leaving the office, you should: 
Wait until the next day to exercise or do any other strenuous activity.

Stay out of the sun and do not use a tanning bed or other type of indoor tanning. 

Avoid touching the treated area for three days, unless you receive instructions to massage the area.
Is there downtime?
This varies with the filler. Most fillers do not cause downtime. Be sure to ask your provider whether you will have downtime.
When will I see results after getting a filler? 
This also varies with the filler. Most fillers fill the skin, so they produce immediate — or close to immediate — results. A filler also can stimulate your body to produce collagen, but this takes time.
Most fillers offer immediate results
You will be happy to see your results immediately, there of course will be swelling for days to weeks, so the final results are generally seen after about 3-6 weeks after injection. 
Will I look natural? 
To get natural-looking results, the person injecting the filler must have expertise in placing the filler. 
Dermatologists recommend not overdoing fillers. Your results will look more natural with a conservative approach. For example, patients who have very thin lips should not get dramatically fuller lips. Creating fuller lips in these patients could be extremely unflattering because the lips might start to resemble a duck's bill.
How long will the results from fillers last?
Most fillers offer temporary results and require repeat treatments to maintain the results. 
Temporary fillers offer one key advantage. These can be injected as needed to replace lost fullness. This is advantageous because no matter what we do, our skin continues to age. Most hyaluronic acid fillers last 6-12 months on average. 
When is it safe to get another treatment? 
If you get a temporary filler, you can usually have another treatment when the signs of aging reappear. 
What are the possible side effects? 
After receiving filler injections, some patients have minor, temporary side effects where they were injected. You may have:
Redness

Swelling

Tenderness

Bruising (occasionally)
These side effects tend to clear within 7 to 14 days — if not earlier.
Serious side effects are more likely when the person injecting the filler does not have adequate medical training and experience. To protect your health, you should never get filler injections in a non-medical setting, such as non-medical spa, salon, or someone's home.
When fillers are injected in a non-medical setting or by an inexperienced provider, reports of more serious side effects increase dramatically. These side effects include: 
Lumps.

Ridges.

Over-filled areas.

Allergic reaction.

Skin discoloration.

Infection.

Severe swelling.
What is the safety record for fillers?
This is one of the safest cosmetic treatments available. For years, dermatologists have been refining the use of fillers to diminish signs of aging. Today, providers safely treat people of many ages and all skin colors. 
What is the cost of dermal fillers?
The cost for the dermal fillers used at Ridgeline Medical is $475 per syringe.  The number of syringes needed for each area of concern is determined in your individual consultation with Christina Finnerty FNP. 
Call to schedule your appointment today!